The Roving Rooster is a destination dining concept that pairs eclectically creative food with fun, whimsical locations.
"I wanted to create a fun vehicle bringing people together for a dining experience outside the four walls of a traditional restaurant." ~ Laurie Adams, owner/chef of The Roving Rooster
Our core values are based on providing you with
Progressive Food
Ever Changing Spaces
Wine & Laughter
Exemplary Service
Your next dinner could be in a barn, a river, on top of a building downtown, or around a fire in a mountain lodge.
So, join us at our next destination dinner or, envision one of your own!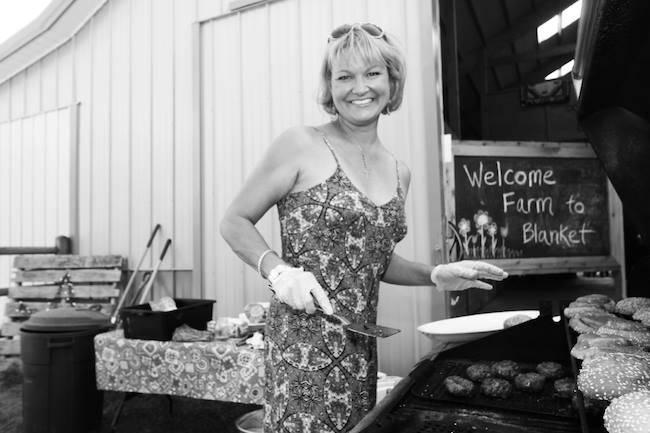 Chef/Owner: Laurie Adams
Hometown: Oklahoma City, Oklahoma, but Colorado stole my heart at the age of four on a family ski trip to Vail. The next summer we came to Estes Park, and I was hooked. I got to move here in 97'.
Food Philosophy: Use the best local sustainable ingredients I can find, and with a lot of love, turn them into something that I can be proud of.
Best Experience Ever: Spending a summer in Italy, learning everything I could about food. It was extremely gratifying and humbling.
Favorite Quotes: "The only real stumbling block is the fear of failure. In cooking, you've got to have a what-the-hell attitude." -Julia Child
"The torch of love is lit in the kitchen."  -French Proverb
"I like my boeuf bourguignon with a side of whimsy."  -Laurie Adams
Loves: Record Players, Funny, Cab Franc, Kumamoto Oysters, and Colorado Sky
Can't stand: Olives, (I know!  I've tried), Clowns, Dishonest Food, and Microwaves (I have never owned one!)
Doesn't Understand: People in this industry that are pretentious. I mean, you are in the service industry.  Where is the pretense in that?
Strangest Pairing: Popcorn popped in coconut oil with a frosty glass of orange juice (oh so good!)
Best Compliment Ever Received: Someone once told me that for their last meal on earth, they would request my fried chicken.  Now, THAT is a compliment!
The idea for The Roving Rooster hatched one very hot august afternoon while doing a photo shoot for a Colorado magazine. They wanted to feature me in a piece on chef-owned businesses using organic and locally sourced ingredients. I was thrilled to do the project, intending to promote my growing boutique catering company.
Denver photographer Ron O'Hare agreed to do the shoot. We decided to punch things up a bit with something a little more playful than kitchen shots of me over the stove stirring risotto. The shoot began on a large grassy area in front of the Flour Mill Building then migrated over to the bank of the South Platte River.
All at once, I was knee deep in water, wading around in a white dress.
A wrought iron table and chair were pulled into the river to capture some shots of me drinking wine, and I said, "Why not cater a dinner in a river sometime? Waiters, rolled up tuxedo pants, wading out to the guests serving champagne? Doesn't that sound fun??" Laughter ensued.
Then I thought, "Why not? Why not dinner in a river?" Three days later, The Roving Rooster got its wings!